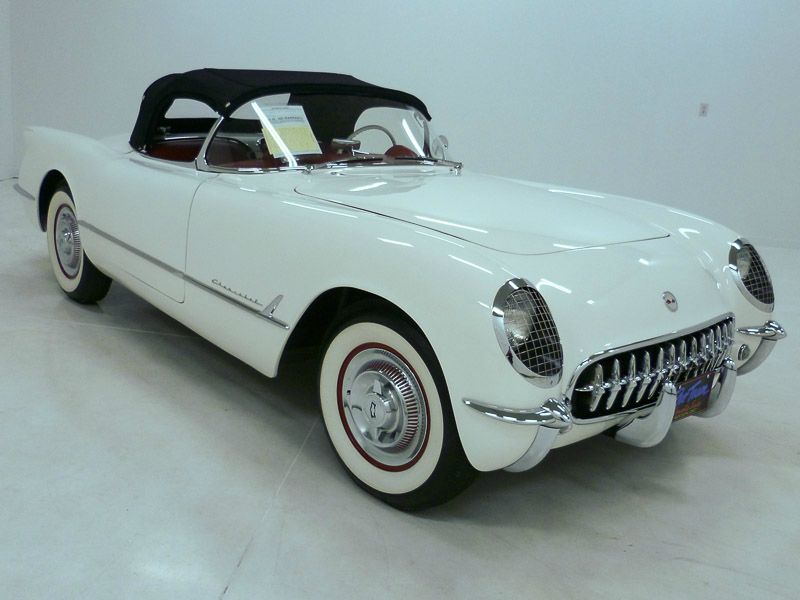 1042R..1953 Corvette Convertible, VIN #114, Blue Flame Six, powerglide, number matching and correct throughout. Polo White paint with Sportsman Red interior and Black soft top. Full professional body-off restoration by noted early Corvette specialist Irvin Patrick in Paintsville, Kentucky where all colors, inspection markings and assembly methods were accurately replicated. These type restorations normally cost between $150,000.00 to $200,000.00. One of 300 Corvettes produced for the inaugural year of 1953 and one of approximately 150 that have survived. Optioned with powerglide, 3.55 rear, Wonderbar radio, windshield washers, courtesy lights, heater, hubcaps, and 6.70x15" wide white tires. Most all factory correct type components including the spare, jack tool, trunk mat, trunk liner, Steve Newsom restored side windows, side window bag, rebound straps, spiral shocks, washer system, shifter, shielding, air cleaners, generator, gas cap, distributor, hoses, hose clamps, hood alignment blocks, valve cover, hood pop-ups, side draft carbs, #066 head, expansion tank, radiator, guide Y-50 mirror, owners manual, and sales brochure. Documented with owner history back to 1969, registration from 1969, prior owner title and 3-ring binder. This recently restored Corvette has yet to be shown, creating an exciting opportunity for the next owner to exhibit the car and compete for trophies, awards, and recognition! From past owner of over 50 years. Adding a 1953 to your collection will place you on the fast track to the upper echelon in the Corvette world, affording you the opportunity to join a select group with a truly limited membership. Looks, runs, and drives excellent especially considering that it is 70 years old. CC:1 Consigned to the Mecum/Kissimmee Collector Car Auction • January 2nd - 14th, 2024 | Mecum Lot S185
Share on Facebook
Questions/Comments? Email proteam@proteamcorvette.com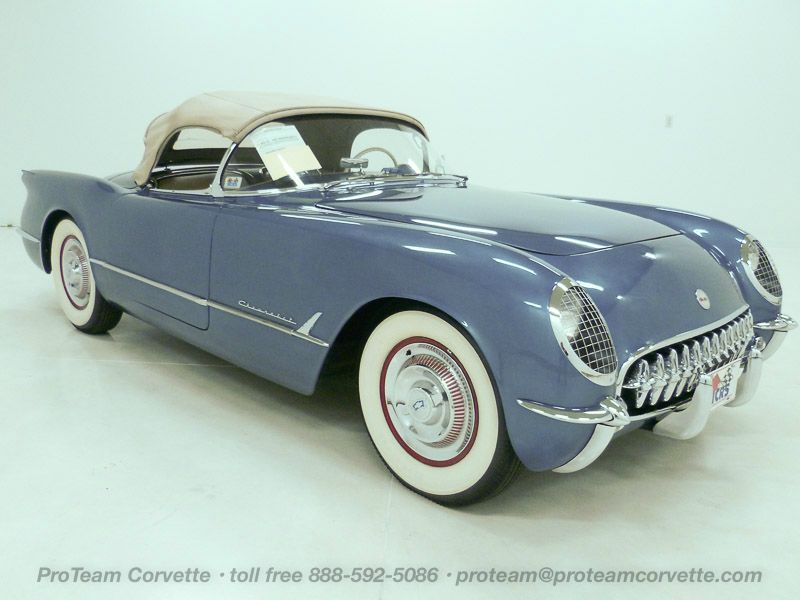 1017R..1954 Corvette Roadster Pick-Up with mahogany bed designed and built by George Prentice (GM Design and Styling staff employee). A predecessor to the Corvette inspired SSR. This transformer can change from a stock original Corvette to a roadster pick-up in less than 2-hours or vice versa, Blue Flame Six, powerglide, numbers matching motor, transmission and rear end. Pennant Blue paint with Beige interior and Beige soft top. Very rare two-year color with only 300 produced. Highly original with exception of one repaint in 1975 with recent comprehensive detail and rebuild of motor, rear end, carbs and radio in 2019-2023. Multiple NCRS Flight awards including National and as recent as 2020. Also participated in many Detroit area concours and invitiationals. with autographed photo of Zora Arkus-Duntov sitting in this car. Two-owner car purchased by William Mullaly a GM manager at General Motors Design and Styling Center and subsequently sold in 1970 to George Prentice who was another Design Associate/employee and owned, cherished and maintained this car until recently (2023) for 53 years. Optioned with powerglide, 3.55 rear, Wonderbar radio, e-brake warning light, windshield washers, courtesy lights, heater, hubcaps, and 6.70x15" wide white tires. Also has tonneau cover and trunk full of spare parts. Most all factory correct type components including the spare, jack, jack tools, trunk mat, trunk liner, side windows, side window bag, rebound straps, washer system, shifter, shielding, air cleaners, hoses, hose clamps, hood alignment blocks, valve cover, hood pop-ups, side draft carbs, #241 head, expansion tank, radiator, guide Y-50 mirror, and owners manual. Documented with the 1955 dealer invoice, conditional sale contract, second owner purchase invoice/receipt in 1970, extensive receipts from the 1970's through 2023, historic photos, news articles and features, NCRS certificates and judging sheets all neatly organized in four large 3-ring binders. Also has shop manual, owners manual, Chevrolet service news bulletins, NCRS Specification Guide, NCRS judging manuals and a Noland Adams autographed Restoration and Technical Guide... Simply amazing!!! Looks, runs, and drives excellent considering that this car is almost 70 years old! CC:+2 $149,000.00
Share on Facebook
Questions/Comments? Email proteam@proteamcorvette.com
1007P..1955 Corvette Duntov Convertible, 265-195 hp, V-8, powerglide, numbers matching, 1,017 miles since restoration. Harvest Gold paint with Yellow interior and Dark Green soft top. Body-off restoration in concours show condition. Jewelry! These type restorations normally cost between $150,000.00 to $200,000.00. Multiple regional and national Top Flight awards including PV (Performance Verification), and the Duntov Mark of Excellence award. Also Bloomington Gold certified and AACA National First award. The expenses involved in obtaining these awards could surely exceed $20,000.00. Only 700 Corvettes were produced in 1955 with only 120 produced in Harvest gold. Rare to say the least! Optioned with powerglide, clear bubble hardtop, 3.55 rear, Wonderbar radio, e-brake warning light, windshield washers, courtesy lights, heater, hubcaps, and 6.70x15" wide white tires. Most all factory correct type components including the spare, jack, jack tools, floor mats, trunk mat, trunk liner, side windows, side window bag, rebound straps, spiral shocks, washer system, coil cover, shifter, shielding, braided wires, air cleaner, generator, distributor, hoses, hose clamps, hood pop-ups, fuel pump, carb, radiator, radiator cap, gas cap, guide Y-50 mirror, owners manual, and sales brochure. Documented with the judging certificates, judging sheets (with scores of 98.3, 98.4, and 99.1), show boards, and 3-ring binder. Also listed in the 1953-55 Corvette Registry. Invited for special exhibit at The Gilmore Car Museum aka "North America's Largest Auto Museum" in Hickory Corners, Michigan, entitled: Greatest Generations - Corvette - Evolution of America's Sports Car which opened April 1st, 2021 and ran through March 2023. Formally from the Jerry Brewis Collection. An amazing beautiful car that looks runs, and drives excellent. CC:1 $269,000.00
Share on Facebook
Questions/Comments? Email proteam@proteamcorvette.com
ALL CARS SHOWN BY APPOINTMENT ONLY...
Monday through Friday 9:00am through 4:00pm.
Call ahead at 419-592-5086 or email directly at
proteam@proteamcorvette.com
Corvette Black Book

Order a

Corvette Black Book

. 160 pages including a minimum of two pages for each car produced, glossary of terms, historic dates, instructions, trend graphs, Corvette chronology, and photos/specifications. The Corvette Black Book also has an extrapolation section to help you zero-in on Corvettes with genuinely rare option combinations.

This is the genuine pocket sized Corvette Black Book.

Available at $25.00 each. Plus $8.00 per item. Ohio residents add 7.25% sales tax. (postage and packaging in contiguous US).
Corvette News | Events | Tech Help

Feature Cars | New Arrivals
By joining our community e-newsletter, we will keep you up to speed every two weeks or so with Corvette related news.
We will never sell or share your information and you can opt out at anytime.
*Fill out the form below to receive ProTeam's FREE electronic newsletter and join our community, thank-you.
Click here to check out ProTeam's Corvette news archives dating back to January 2006